Visible Light Communication Technology Shines in China Innovation and Entrepreneurship Fair 2017
China Innovation and Entrepreneurship Fair 2017 was held in Guangzhou from May 26th to 27th, 2017. The fair, jointly organized by China Association for Science and Technology, National Development and Reform Commission, Chinese Academy of Engineering, The Central Committee of the Jiu San (Sept. 3rd) Society, People's Government of Guangdong Province, The People's Government of Guangzhou, is a high-end, international and industrial event for innovation and entrepreneurship, and has gradually become an important window and platform to promote national innovation and entrepreneurship achievements transformation.
During the fair, demonstration of the new generation of information technology, artificial intelligence (AI) and biomedicine industries did great performance. Jetcomm Technology Ltd, founded by Dr C. Patrick Yue from HKUST, showcased its visible light communication technology, better known as VLC, utilizing visible light as a communication medium, which attracted visitors' attention. Guangzhou TV station's report could be found here.
Abstracts from Brite Semiconductor News – Visible Light Communication Technology Shines in China Innovation and Entrepreneurship Fair 2017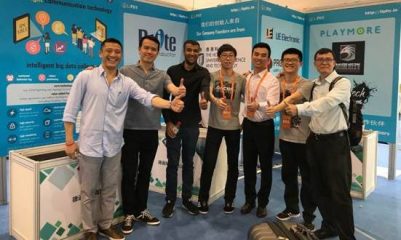 Related Links:
ECE VLC technology shines in China Innovation and Entrepreneurship Fair 2017
Interview of our PhD student Babar Hussain (ECE MPhil'2015; 2016 HKPFS Awardee) by Guangzhou TV